–                          –                          –
Leading Off
This is it – the last podcast before we have real, live baseball to talk about. A week out from Opening Day, we're joined by Jeff Long of Baseball Prospectus and Matt Taylor of Roar From 34 in order to squeeze every last drop of Spring Training content.
Join us for our live show at Ram's Head, at 6:00pm on April 6, 2017. Use promo code "Birdseye" for $5 off tickets. Come for the Bird's Eye View live podcast – stay for the main event with local Orioles media. Oh, and the bar is open. We'll have some friends from the Bird-O-Sphere join us, and look forward to sharing a few drinks of the week with all of you who show up.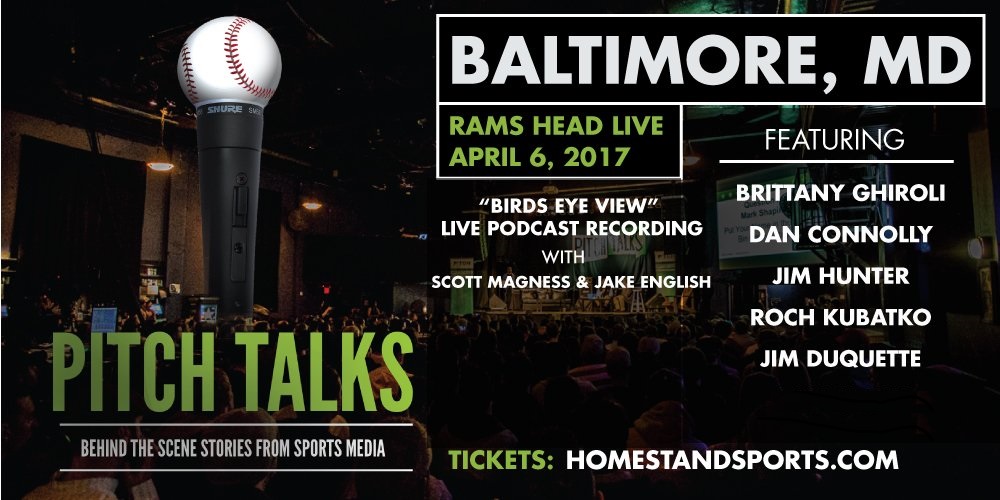 Remember to listen to Bird's Eye View on Google Play Music!
Join us for The Drink of the Week and let us know what you're up to via Twitter (@birdseyeviewbal), or on Untapped (jakee4025 and magn8606).
The Medical Wing
Remember: It's OK if you giggle.
This week, the Medical Wing is occupied by:
Chris Tillman – shoulder
Anthony Santander – elbow
Wade Miley – flu
This Week on the Twitters
Long, Long, Long

Jeff Long of Baseball Prospectus joins us to talk PECOTA (teach your kids it's not a dirty word), Barrells, and weighted balls. It's Bird's Eye View – of course it came down to ball talk.
Follow Jeff on twitter dot com @JeffLongBP and check out his work on Baseball Prospectus.
It's All Too Much

Matt Taylor is the creative force behind Roar From 34, and is a great friend of the program. Matt joined us for his usual Spring Training spot, and found new and interesting ways to break our hearts.
Make sure to check out the back catalog at Roar From 34, and follow Matt on the twitters @roarfrom34.
Blowing the Save
Most podcasts try to end on a high note – the perfect coda to a quality program. That's just not our style. Each week, we'll end on a weak note, blowing the save with an item that didn't quite fit into the episode, or something they simply need to get off their chests. It's our version of taking the ball and pulling a Kevin Gregg.
Your Turn
Love it? Hate it? Confused? Let us and other listeners know! As always, we appreciate the support.
Please leave us a review on iTunes and Stitcher. Get connected with us on social media, click below to find us on social media.
Or send us your favorite highlights of the show through the Clammr Player below!