Leading Off
Episode 37 of the podcast is a very special one, as it coincides with the debut of Kevin Gausman, who wore #37. Spoiler Alert: we talk about him a little later on in the show. Also, on the top of the show, we thank you for joining us in the adventure that is Twitter, and encourage you to tweet #SorryWilson to take one of Scott's balls.
That may have come out wrong.
Quick shout-out to the guys over at Section 336, and their Night at the Yard event(1:30). The podcast is worth checking out, and you should definitely join them (and us!) for their event. You get a ticket, a shirt, and the opportunity to catch a game with people who are just as Orioles crazy as you are.
The BEVys: Biggest Regression to the Norm
As a reminder, we'll be hosting The BEVys during the All Star break (3:30). Our first BEVy category is 'Biggest Regression to the Norm.' This award goes to the player who statheads and haters told you before the season "this guy can never do that again." Whose star has fallen back to the pack in the most meaningful way? Send us your nominees:
This is the Dawning of the Age of Gausmania
So some kid got called up on Thursday (9:30)… What are we calling this phenomenon? The guys discuss the move, its permanence, and what the mark of success should be for Gausman in 2013. Then it's on to Thursday's start: what we liked, what we didn't, and what does it all mean?
From Pretender to Protestor 
Long-time listeners will remember our special "affection" for Kevin Gregg, who we deemed "The Protestor." Scott provides pretty compelling  evidence that Jim Johnson has replaced him in that area (25:55). Jake fights his heart and his head, and the guys try to put some perspective on the most logical (or likely?) path forward.
Battle of the Beltways
[sz-video url="http://www.youtube.com/watch?v=QlORK-aqwhw" /]
Scott mocks Jake (a surprise?) for attending a fine DC academic institution(44:25). It's that time again – the time where we pretend that O's/Nats is a real rivalry worth paying attention (45:40). MASN needs to understand how much fans hate the "bring the MASN family together" nonsense during O's/Nats broadcasts. The guys talk about the 4-game series, and Jake drags Scott into some MLB fashion (52:45).
Actually, Scott gets more into it than usual, as he proposes some interesting ideas for Orioles camo: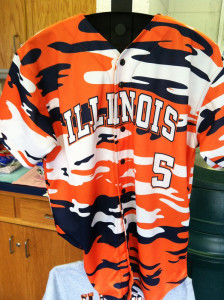 Tip of the cap to National Discourse – a Washington Nationals podcast run by our buddy Josh. Go check it out, if that's… your thing.
The Good, the Bad, and the Ugly
Who had a great week? Who had a terrible week? Who made us ashamed to be Orioles fans? Find out in this week's GB&U. The guys run through their Good, Bad, and Ugly (57:50).
Listen to BEV on iTunes!
You can find Bird's Eye View all over the web, including iTunes. Be sure the check for the show, and leave us all sorts of favorable comments and ratings. Flattery will get you everywhere, you know.
Contact Bird's Eye View
There's plenty we got wrong in this episode. Be sure to tell us exactly how.