Leading Off
Scott unveils his second attempt at the Drunk Gary Thorne (0:55), which is somewhat less likely to kill you than the last one. More "news" becomes available for the The Brian Roberts Watch (2:10), and a Terry Crowley reference! We take a trip through the Medical Wing (4:00)- Wei-Yin Chen turns out to be the only bright spot.
The O's continue to have a strong showing in All-Star voting (5:55), as Birdland is voting orange en masse. The Orioles have 4 players set to start as of RIGHT NOW, and could see a couple of others get the nod as a manager's selection. How good does this look?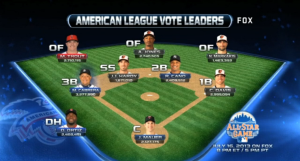 Here comes the cavalry!
Remember the cavalry (10:00)? Remember how much we were looking forward to seeing the likes of Brad Bergesen mowing down hitters in the AL East? Yeah, that didn't work out so well. The guys review a brief, depressing "where are they now." Warning: Dave Trembley is referenced.
These kids are not alright Jake Arrieta and Zach Britton make their returns to the Orioles rotation this week against one of the premier offenses in the American League. WHAT COULD GO WRONG ? Arrieta has already lost, as of recording of this episode. The guys are willing to write him off as either a bullpen arm, or the quintessential "change of scenery" guy (13:30). Jake gets bitter while Scott slips into his Zach Britton give-away t-shirt (16:25).
With the rest of the cavalry, some of them simply flamed out. Others ended up in the bullpen. One or two ended up as trade chips. But there is one bright spot: Chris Tillman (20:50). He may not be an ace, but he Tillman a dependable Major League starter who has asserted himself as a stopper in this inconsistent rotation. Baseball is big on nicknames. Maybe Tillman should be "The Cavalry."
(Sexy) Potpourri 
Yes, you read that correctly. No, it's not any less awkward on the podcast (25:55). Sott channels his inner Baltimoron, and keeps Jake on a timer by ringing a bell (26:30). You're welcome, all you earbud listeners. The guys hit the dead smelly flowers of topics that can't stand on their own:
The media vs. the boo birds: who will own it? (27:25)
Casilla usually hurts the team. Did his finger injury hurt it worse? (29:20)
Should the Orioles make it rain? (31:00) The guys consider extensions for:

Manny Machado
Matt Wieters
Chris Davis
The Good, the Bad, and the Ugly
Who had a great week? Who had a terrible week? Who made us ashamed to be Orioles fans? Find out in this week's GB&U. The guys run through their Good, Bad, and Ugly (37:10).
Listen to BEV on iTunes!
You can find Bird's Eye View all over the web, including iTunes. Be sure the check for the show, and leave us all sorts of favorable comments and ratings. Flattery will get you everywhere, you know.
Contact Bird's Eye View
There's plenty we got wrong in this episode. Be sure to tell us exactly how.