The state of Orioles baseball is pretty frustrating right now. The headlines are dominated by issues that are distinctly not baseball. I'm tired of hashing, rehashing, and re-rehashing the fact that the Boston Red Sox are unable to get over themselves, regarding Manny Machado. I'm done contributing to that attention machine.
On the other hand, I'm going to wimp out of the Adam Jones discussion on this blog. If the other issue is beneath me, this is certainly one that Bird's Eye View is not up to the task for solving. We, as a society, we need to engage in difficult conversations about race. We need to talk about Adam Jones today, and tomorrow, and continue until we live in a country where this kind of thing doesn't happen.
But if it's OK with you, I'd like to use this space to talk about… you know… baseball. In case you missed it (and who could blame you if you did?), there are a few storylines worth paying attention to in this early portion of the season.
1. Alec Asher hasn't been terrible.
I know, right? Slow my roll… this is incredibly high praise. But let's take a moment to reflect. A great deal of the rotation has been hot garbage (I'm looking at you, Ubaldo Jimenez… I'm also uncomfortably looking at my feet and mumbling inaudibly when people mention Kevin Gausman). Chris Tillman is getting shelled in AAA, while throwing Reagan-era fastballs. This rotation has its troubles.
So when a pitcher we picked up on the cheap from Philadelphia (I was trying to avoid using the phrase "scrap heap") puts in two solid starts, it's OK to be pleased with the situation. Alec Asher turned in two pretty good starts – one against the admittedly hapless Blue Jays, and one against the admittedly butt-hurt, though still talented Red Sox. He even got some useful work in the bullpen, picking up a win in that weird "Seth Smith Little League Home Run, Then Shrimp" game.
I know, small sample size. And his peripherals don't impress. Asher's ERA may be 3.14, but his FIP is 4.89. His BABIP is .205 and his LOB% is 84.5 – both indicating that there's been some good fortune involved, and that he's likely to crash back to earth.
But Asher has put in two good starts, and this is a team desperate for starting pitching. Isn't this something worth throwing more innings at? Isn't this something worth seeing if we've caught lightning in a bottle? Isn't this a great excuse to send Ubaldo Jimenez to that great pot hole in the sky?
2. Adam Jones looks good in center field.
Every time I'm sad, I close my eyes and envision Adam Jones robbing Manny Machado of a home run in the World Baseball Classic. Cap10 America saving the day is officially my happy place. And we're seeing that more often in the 2017 season.
Jones' positioning has been the subject of armchair outfield coaches since he arrived in Baltimore. He's playing too shallow, he's playing way too shallow, he's chewing gum, he's… Ugh. Jones has collected his own set of highlight reel catches, and earned Gold Glove recognition, but the quiet secret many Orioles fans share is that we know Jones is not that great – he's not an elite defender.
As Jones moves deeper into his thirties, the decline must come. The decline has come more slowly at the plate than I expected, and at least early in the season, we're seeing improvement in the field. Jones is playing deeper than in past seasons, and his situational positioning (hat tip to Wayne Kirby) has turned a few gappers into outs.
I've said on the podcast that Adam Jones can hold Father Time at bay if he can learn to manage his ego, and to accept the limitations of his play, and to embrace the things he does well. I think this is exactly what we're seeing, defensively. And it's a good look on him. Jones is one of my favorite players, and his reaction to this week's drama in Boston makes me appreciate him that much more. But let's be careful not to miss what he's doing between the lines.
3. This team is fun.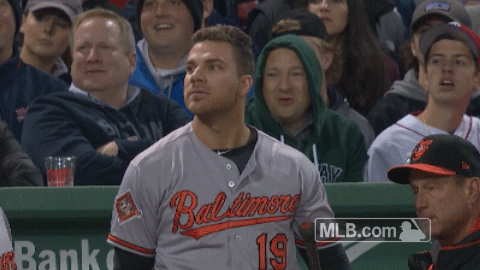 I want to talk about Chris Davis for a moment, and avoid discussing his tepid start. And by that, I mean that I don't want to be reminded of his 38% strikeout rate, or his 97 wRC+. Instead, I want to talk about the fact that he's strong like bull, and sometimes his personality is as big as the paychecks he's taking home.
Davis helped Adam Jones free a bat from a donut this week by smashing the bat against the ground, then flexing. This kind of stuff is a lot more bearable when the team is winning, and because they're winning, I choose to enjoy it. Davis is a hoot, and I plan on enjoying this GIF when (if?!) the Big Fella returns to his power hitting form.
4. Someone put Hyun Soo Kim on a milk carton.
Seriously, this isn't funny anymore. We've seen Trey Mancini, Mark Trumbo and RYAN FLAHERTY patrolling the corner outfield spots, while Kim languishes on the bench. I understand Seth Smith (and to a much lesser extent) Craig Gentry getting playing time, but at some point, you have to ask why Kim – who has largely delivered in the limited time he's been allowed to contribute – remains in the dog house.
Buck Showalter seems intent on treating Kim like the 25th man on the roster. It will be interesting to see how Kim performs in this league after his contract is up, and he is allowed regular playing time. Perhaps he'll prove Showalter's doubts, but it is maddening that we seem destined never to know if he can contribute at a high level for the Baltimore Orioles.
5. Viscount of Baltimore?
After crapping on him for his handling of Kim, let me throw a little love Buck Showalter's way. There will never be another Earl, but Showalter is quietly putting together a notable career as Orioles manager. Sure, it's not hard to move up a wins list in an organization that experienced 14 consecutive losing seasons, but Buck is now second in wins (563) behind Earl Weaver (1,480). Additionally his 1,445 career victories places him at 25th all time.
Showalter has a reputation for being able to prepare franchises for championships, without being able to walk them down the aisle. He's known for being a long-time member of the Yankees organization, as well as helping get the Arizona Diamondbacks off the ground. In his now eighth year with the club, is he getting closer to being remembered as "Buck Showalter, long time Orioles manager?" I wonder if he will be remembered not as the cuckold of championships in New York, Arizona, and Texas, but rather, as one of the chief drivers behind the revitalization of the Orioles franchise – no easy task, as others had failed for more than a decade.
No, he's not perfect. His personnel and bullpen management can make us crazy. Buck is not above criticism or reproach, and even on winning teams, the manager blows some games. But the overall grade is a good one.
If Buck Showalter wins a world series here in Baltimore, there's a good chance a #26 statue will adorn the Eutaw Street entrance. And I'm pulling for him –he's one of us, now. And the team is better for him being here.
In case you missed it, there is baseball going on here. And it's entertaining. Here's hoping that we are able to settle ourselves down and enjoy it sooner than later.